La Plata Property Overview
The La Plata silver-gold-copper property is located in southwest Colorado and covers 32.7 square kilometers (km2) approximately 26 kilometers northwest of Durango, Colorado within the historic high-grade La Plata mining district (the "District") at the southern end of the prolific Colorado Mineral Belt. The road accessible project hosts a large-scale precious-metals-rich porphyry system with associated high-grade silver and gold epithermal deposits.
The La Plata district has a long and rich history of mining with the first silver deposits discovered in the 1700s by Spanish explorers. High-grade silver and gold production has been documented from the 1870s through the early 1940s from vein structures, replacement bodies and breccia zones at over 90 individual mines and prospects. From the 1950s to 1970s, major miners Rio Tinto, Exxon and Freeport-McMoRan explored in the District focusing on the significant potential for bulk-tonnage disseminated and stockwork porphyry-hosted copper mineralization1.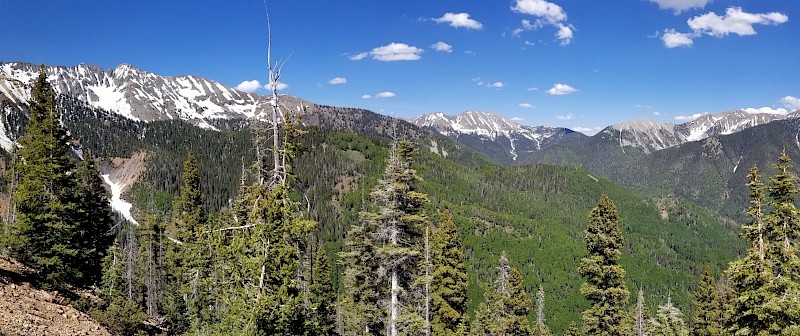 During this period of exploration, 49 holes were drilled on the Property, totaling 12,700 meters. Drill holes and trenches confirmed the presence of a large-scale, multi-phase, precious-metals-rich alkalic copper porphyry system grading up to 1% copper with significant silver and other precious metals. Covering at least 3 km by 1 km the porphyry system is exposed over 1 km of vertical relief and remains open to expansion. This large-scale system centers on a 10 km2 magnetic anomaly and is highlighted by an intense hydrothermal alteration signature. Surrounding the porphyry system is an associated high-grade silver and gold-rich epithermal system measuring at least 8 km by 2 km that hosts 56 identified vein, replacement and breccia structures. Historical production from some of these high-grade structures exceeded 500 grams per tonne ("g/t") silver and over 30 g/t gold with some of the richest deposits exceeding several hundred ounces per ton gold and over a thousand ounces per ton silver2.
Within the porphyry system several higher-grade areas have been identified with the largest at the Allard target area, measuring approximately 1 km long by 200 m wide, and a second at the Copper Age target that is 500 m by 200 m. Both targets remain open to expansion at depth and along strike. One of the deepest holes drilled on the Property intersected 378 m of porphyry style mineralization grading 0.62% copper equivalent (0.52% Cu, 6.2 g/t Ag, and 0.06 g/t Au) including 110 m grading 0.82% copper equivalent (0.64% Cu, 7.4 g/t Ag and 0.13 g/t Au) with the hole ending in mineralization. Only a limited number of holes were analyzed at the time for silver, gold and platinum group metals. However, samples from within the porphyry system indicate potential for significant additional value from silver and other precious metals with select samples returning multi-gram values of gold, platinum and palladium2,3.
The La Plata property has been privately held since 2002, following sale of the last of the claims held by Freeport-McMoran (formerly Phelps-Dodge) near the bottoming of the last copper market cycle. There has been virtually no modern exploration in over 50 years on either the large-scale porphyry system or the surrounding high-grade epithermal zones, both of which will be a focus for Metallic Minerals. Systematic exploration at the La Plata property has the potential to rapidly enhance the size of the known historic mineral resources and to identify and expand the higher-grade zones within the broader porphyry and epithermal mineralized systems.