Management & Board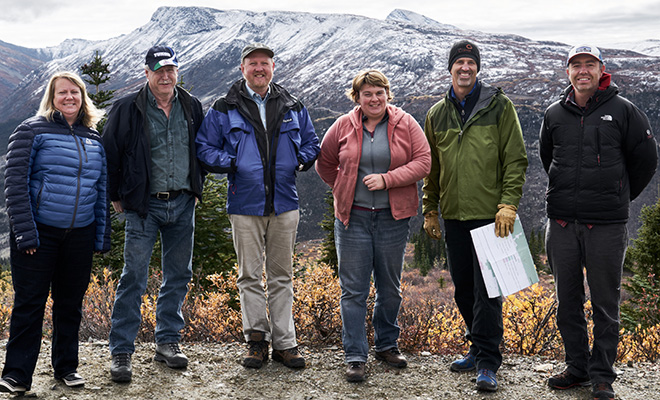 Sue Craig, Bill Harris, Greg Johnson, Debbie James, Scott Petsel & Gregor Hamilton at our Keno Silver project
Greg Johnson
Chief Executive Officer and Chairman of the Board
Mr. Johnson has twenty-eight years of experience in the mining industry with an exceptional track record in exploration, development and financing of large scale projects to create value for shareholders. Prior to joining Metallic Minerals, Mr. Johnson held the positions of President and CEO at Wellgreen Platinum and South American Silver, and was a co-founder and executive at NovaGold Resources. Mr. Johnson began his career with Placer Dome (now Barrick Gold), where he held various senior roles in domestic and international exploration. Mr. Johnson has developed broad experience in the capital markets and has been involved in raising over $650 million in project financing. For his role in the discovery and advancement of the 40-million-ounce Donlin Creek gold deposit in Alaska, Mr. Johnson was a co-recipient of the PDAC's Thayer Lindsay International Discovery Award. In addition, Mr. Johnson has been recognized for his work in sustainable development and community engagement and was awarded the Robert E. Leckie Award by the Yukon Government for excellence in environmental stewardship.
Scott Petsel, P.Geo.
Vice President, Exploration
Mr. Scott Petsel, P.Geo., brings over 28 years of experience in mineral exploration, mine geology, project management and advancement from exploration to feasibility. He has spent more than 18 years working in Alaska and British Columbia at the Galore Creek project, Donlin Gold project, Alaska-Juneau mine, Kensington mine, and, most recently, at the Arctic and Bornite deposits in northern Alaska. In addition, he has extensive international exploration experience from his work with Placer Dome (now Barrick Gold) and Echo Bay (now Kinross Gold).

Prior to joining Metallic Minerals, Mr. Petsel was Project Manager of NovaCopper's (now Trilogy Metals) Upper Kobuk Mineral Project, where he managed the exploration activities that resulted in the expansion of the resource base by over 5 billion pounds of copper. During his time with NovaGold and NovaCopper, he played an integral role as Exploration Manager and Senior Geologist during the discovery and definition of over 40 million ounces of gold, 150 million ounces of silver and 12 billion pounds of copper. Mr. Petsel was part of the teams credited with these discoveries that were awarded the 2009 Thayer Lindsley Award for an International Mineral Discovery success and the AMEBC 2015 Colin Spence Award for Excellence in Global Mineral Exploration.
Rebecca Moriarty
Chief Financial Officer
Ms. Rebecca Moriarty is a Chartered Professional Accountant with over 20 years of experience in the mining industry. Her background includes a unique combination of technical and business accounting expertise, having received a degree in geology from Queens University and a CPA designation. Ms. Moriarty is supported by the Malaspina Consultants team, a Vancouver-based financial consulting and advisory firm staffed with highly experienced accounting personnel. Prior to joining Malaspina, Ms. Moriarty worked with PricewaterhouseCoopers LLP where she was a manager working exclusively with resource companies.
Chris Ackerman
VP Corporate Development
Mr. Ackerman is a graduate of the UBC Faculty of Law, with extensive experience in both government and private industry, including five years as Senior Manager - Corporate Communications with Wellgreen Platinum. Prior to joining Metallic Minerals, Mr. Ackerman was in the role of Sr. Business Development Advisor with the Yukon Ministry of Economic Development; a position primarily focused on promoting investment in the Territory's mining industry.
Alicia Milne
Corporate Secretary
Alicia Milne is a corporate secretary and securities compliance consultant providing services to various public companies listed on the NYSE, TSX and TSX Venture Exchanges. Beginning in the legal industry over 20 years ago as a securities paralegal, Ms. Milne has developed her career over the last 15 years serving as a corporate secretary, securities compliance officer and corporate consultant, as well as an independent director. She is a member of the Governance Professionals of Canada and is on the Board of Directors of Women in Mining BC.
Peter Harris
Independent Director
Mr. Peter Harris is a mining engineer with over 40 years of global mining industry experience in project evaluation, development, mine construction and operations. Peter's career is highlighted by prominent roles with Placer Dome (now Barrick Gold) as Senior Vice President of Project Development and President & CEO of Placer Dome South Africa. He also was part of the early formation of NovaGold Resources as Chief Operating Officer. Peter brings a deep understanding of what it takes to have a successful mining project having been involved in various stages of evaluation, development, construction and operation of over 20 mineral projects in his career in North and South America, Africa, Australia and Papua New Guinea. His experience ranges from high-grade underground operations to large scale open pit deposits of base & precious metals. He has a strong track record of leading corporate development teams in strategic acquisitions, financing as well as structuring of engineering initiatives to optimize costs and identify opportunities. A mine engineering graduate of the University of Newcastle-upon-Tyne with executive and board of director experience in mining and related industries, Peter also led the design and introduction of World Bank recognized employee programs for affected mine-workers related to major mine re-structuring and AIDS programs.
Doug Warkentin
Independent Director
Mr. Doug Warkentin (B.Sc., P. Eng) is a metallurgist and process engineer with over 30 years of applied mine processing expertise. Doug graduated from UBC with a degree in Mining and Mineral Process Engineering and has been a member of the Association of Professional Engineers and Geoscientists of BC since 1992. Doug is an industry innovator and entrepreneur and author of numerous technical papers and co-inventor of multiple patented process technologies. He has worked both in plant operations and contract research and has been a principal in companies providing process development services and environmental technologies to the mining industry. Areas of expertise include base and precious metal flotation, precious metal hydrometallurgy, resource recovery and treatment of mine wastes. He is currently Senior Metallurgist for Kemetco Research Inc. in Vancouver, BC.
Gregor Hamilton
Independent Director
Mr. Hamilton has 25 years of experience in the mining sector as a geologist, investment banker and entrepreneur. Mr. Hamilton began his career in mineral exploration in South America and later worked for 11 years in investment banking in London and Sydney, specializing in structured finance and M&A. Since 2010, Mr. Hamilton has been involved in the acquisition and development of mineral properties within both public and private resource companies.
Mr. Hamilton has a BSc in Geology from the University of Edinburgh and an MSc in Mineral Project Appraisal from the Royal School of Mines, Imperial College, London. He also serves on the board of Group Ten Metals, Inc.