Management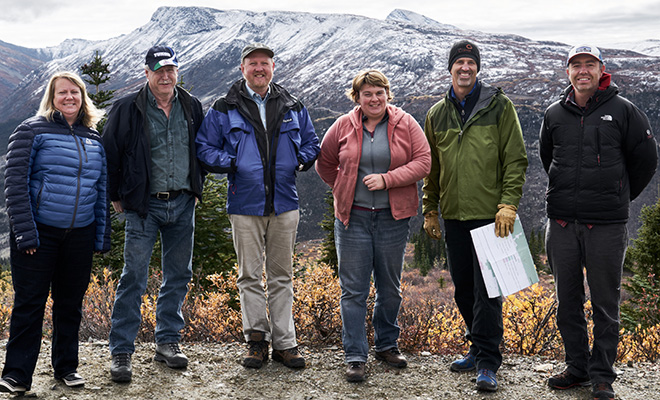 Sue Craig, Bill Harris, Greg Johnson, Debbie James, Scott Petsel & Gregor Hamilton at our Keno Silver project
Greg Johnson
Chief Executive Officer and Chairman of the Board
Mr. Johnson has twenty-eight years of experience in the mining industry with an exceptional track record in exploration, development and financing of large scale projects to create value for shareholders. Prior to joining Metallic Minerals, Mr. Johnson held the positions of President and CEO at Wellgreen Platinum and South American Silver, and was a co-founder and executive at NovaGold Resources. Mr. Johnson began his career with Placer Dome (now Barrick Gold), where he held various senior roles in domestic and international exploration. Mr. Johnson has developed broad experience in the capital markets and has been involved in raising over $650 million in project financing. For his role in the discovery and advancement of the 40-million-ounce Donlin Creek gold deposit in Alaska, Mr. Johnson was a co-recipient of the PDAC's Thayer Lindsay International Discovery Award. In addition, Mr. Johnson has been recognized for his work in sustainable development and community engagement and was awarded the Robert E. Leckie Award by the Yukon Government for excellence in environmental stewardship.
Rebecca Moriarty
Chief Financial Officer
Ms. Rebecca Moriarty is a Chartered Professional Accountant with over 20 years of experience in the mining industry. Her background includes a unique combination of technical and business accounting expertise, having received a degree in geology from Queens University and a CPA designation. Ms. Moriarty is supported by the Malaspina Consultants team, a Vancouver-based financial consulting and advisory firm staffed with highly experienced accounting personnel. Prior to joining Malaspina, Ms. Moriarty worked with PricewaterhouseCoopers LLP where she was a manager working exclusively with resource companies.
Scott Petsel, P.Geo.
Vice President, Exploration
Mr. Scott Petsel, P.Geo., brings over 28 years of experience in mineral exploration, mine geology, project management and advancement from exploration to feasibility. He has spent more than 18 years working in Alaska and British Columbia at the Galore Creek project, Donlin Gold project, Alaska-Juneau mine, Kensington mine, and, most recently, at the Arctic and Bornite deposits in northern Alaska. In addition, he has extensive international exploration experience from his work with Placer Dome (now Barrick Gold) and Echo Bay (now Kinross Gold).

Prior to joining Metallic Minerals, Mr. Petsel was Project Manager of NovaCopper's (now Trilogy Metals) Upper Kobuk Mineral Project, where he managed the exploration activities that resulted in the expansion of the resource base by over 5 billion pounds of copper. During his time with NovaGold and NovaCopper, he played an integral role as Exploration Manager and Senior Geologist during the discovery and definition of over 40 million ounces of gold, 150 million ounces of silver and 12 billion pounds of copper. Mr. Petsel was part of the teams credited with these discoveries that were awarded the 2009 Thayer Lindsley Award for an International Mineral Discovery success and the AMEBC 2015 Colin Spence Award for Excellence in Global Mineral Exploration.
Chris Ackerman, LLB
Senior Manager - Corporate Communications
Mr. Ackerman is a graduate of the UBC Faculty of Law, with extensive experience in both government and private industry, including five years as Senior Manager - Corporate Communications with Wellgreen Platinum. Prior to joining Metallic Minerals, Mr. Ackerman was in the role of Sr. Business Development Advisor with the Yukon Ministry of Economic Development; a position primarily focused on promoting investment in the Territory's mining industry.
Alicia Milne
Corporate Secretary
Alicia Milne is a corporate secretary and securities compliance consultant providing services to various public companies listed on the NYSE, TSX and TSX Venture Exchanges. Beginning in the legal industry over 20 years ago as a securities paralegal, Ms. Milne has developed her career over the last 15 years serving as a corporate secretary, securities compliance officer and corporate consultant, as well as an independent director. She is a member of the Governance Professionals of Canada and is on the Board of Directors of Women in Mining BC.
Susan Craig, P.Geo
Advisor - Government & Community Relations
Ms. Susan Craig is a highly-respected professional geoscientist, who has worked in the Yukon and BC for over 25 years, on projects from the exploration and development stage, to construction and production, and final mine closure. Ms. Craig's experience includes work with publicly-listed mining companies, Territorial and Federal Governments, First Nations, and industry groups.

Ms. Craig successfully led the Environmental Assessment process for NovaGold's Galore Creek project and played a key role in establishing the landmark Participation Agreement with the Tahltan Nation. During her time with Viceroy Resources, Ms. Craig was part of the team that explored, permitted and developed the Brewery Creek heap leach gold mine near Dawson City, Yukon in the early 1990s. In this role, she collaborated with the First Nation to implement one of the first Socio-economic Accords in all of Canada.

Ms. Craig served for six years as President/CEO and Director of Northern Freegold and is currently a Director of Yukon Energy Corporation, the Yukon Mineral Advisory Board and President of the Yukon Chamber of Mines. She has received a number of awards recognizing her contributions toward environmental stewardship and sustainable development, and is the recipient of the 2017 Canadian Women in Mining Trailblazer award.