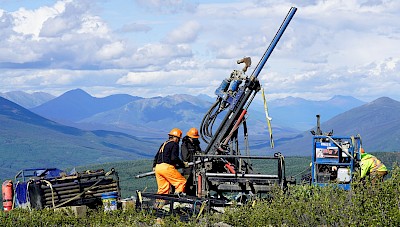 The Keno Silver Project is a highly-prospective, district scale, brownfields exploration property consisting of 166 square kilometres in the world-class Keno Hill Silver District of Canada's Yukon Territory, which has produced over 200 million ounces of high-grade silver over the past 100 years at an average grade exceeding 1,300 grams per tonne. The property is adjacent to, and on-trend with, Alexco Resource Corp's operations, one of the highest-grade primary silver operations in the world featuring an estimated life of mine production grade of 804 grams per tonne with 30.5 million ounces proven and probable, along with over 74 million ounces of silver (M&I) and a further 24 million ounces silver (Inferred)1. The area features excellent infrastructure, with well-developed and maintained roads, as well as access to the Yukon power grid that supplies Keno City.
Metallic Minerals' land package covers the eastern portion of the district, along with portions on the western and southern sides, and represents a continuation of the same geological structures and host rock associated with the demonstrated mineralization occurring on Alexco's ground to the west. The Keno Silver Project, which consists of the West (Bermingham, Elsa and Husky trends), Central (Flame & Moth, Lucky Queen and Keno Summit trends) and East Keno target areas, was host to eight historic silver mines with some of the highest-grades in the district and five that had average production grades above 5,000 g/t.
The Company's West and Central Keno packages occur along extensions of major structural corridors that host Alexco's Silver King, Elsa, and Hector-Calumet, Flame & Moth and Lucky Queen deposits, which are some of the largest silver producers in the district. These largest deposits in the district are hosted primarily in the Keno Hill quartzite and Triassic greenstones along major structural corridors where the structural setting allows for the development of significant Keno Hill type high-grade silver-lead-zinc rich vein deposits.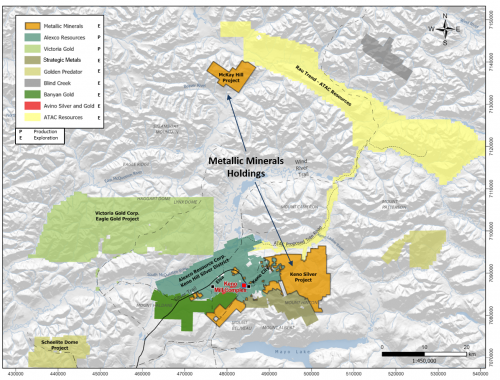 Soil sampling and geophysical surveys over the past two years at East Keno identified 12 multi-kilometer-scale anomalies which indicated potential for large-scale mineralization in an underexplored part of the district. The largest of these target areas extend up to five kilometers in length and two kilometers in width with values exceeding 100g/t silver equivalent ("AgEq") in soils. A total of 30 shallow reverse circulation ("RC") holes totaling 2,644 meters (8,674 ft) were drilled in 2020, testing just a small fraction of these recently defined targets, with results confirming the presence of high-grade Keno-style mineralization within broad continuous zones of potential bulk-tonnage silver mineralization. These results expand the known extent of drill-defined Keno-style mineralization by 10 kilometers to the east and south of the historic Keno Hill mine and open this major new area of prospective stratigraphy for exploration.
The occurrence of mineralization within broad areas of brecciation and pervasive silicification has expanded the potential favorable host rock settings beyond the main Keno Hill quartzite and greenstones in this area. In addition, the identified multi-kilometer-scale soil anomalies spatially correspond with large geophysical magnetic low features that may represent magnetite destructive alteration zones or proximal, buried mineralizing intrusive bodies.
This geologic setting is potentially similar to that hosting some of the world's largest bulk-tonnage silver deposits, including Newmont's Peñasquito, Fortuna's Caylloma, and SSR's Chinchillas deposits, which are hosted in breccia, fracture, and stockwork structural zones, as well as higher-grade sheeted veins and structures.