Flagship Keno Silver Project:
100%-owned brownfields land position covering 166 square km in the eastern portion of the Keno Silver District in Canada's Yukon Territory
Excellent access infrastructure via existing highways and well-maintained all-weather roads, existing grid power supplying nearby town of Keno City as well as Alexco Resource Corp's operations
Adjacent to Alexco, which host >over 100Moz Ag, including 30.5 Moz Ag (Proven & Probable) with LOM production grades of 804 gram/tonne silver or ~1,136g/t silver equivalent value with lead & zinc
10 of the District's 12 known mineralized trends in preferred host rocks continue onto Metallic Minerals holdings, which saw historic production from 8 mines, including 5 with average recovered grades above 5,000 g/t silver
Eastern portion of the Keno Hill silver district has been under-explored due to fragmented, private land ownership, but now consolidated under Metallic Minerals
The first drill program on the east was completed in 2020 and revealed new discoveries of high-grade silver veins within bulk tonnage silver intercepts, effectively extending the overall Keno District by 10km.
La Plata Project:
Long history of mining in the La Plata district with high-grade silver and gold production from 1870s to 1940s with 15 to 30 oz/t (500 to 1,000 g/t) silver and +1 oz/t (30 g/t) gold grades
Explored by major miners Rio Tinto, Exxon and Phelps Dodge in the 1950s to 1970s focused on bulk tonnage disseminated and stockwork porphyry copper mineralization covering 3 km by 1 km
49 holes were drilled on the property, totaling 12,700 meters defining a large-scale mineralized porphyry system grading up to 1% copper with significant silver and other precious metals, historic resource open to expansion
Large-scale system centered on a 10 km2 magnetic anomaly and intense hydrothermal alteration signature
Central 3 km x 1 km porphyry copper-silver-gold +/- PGMs system, surrounded by 8 km x 2 km high-grade silver and gold-rich epithermal system hosting 56 identified vein, replacement and breccia structures
McKay Hill Project:
44 square km property ~50km north of the Keno Hill Silver Pamp
Historic high-grade production from 1940s with average grading of 390g/t Ag and 74.1% Pb
Additional work in 2017 and 2018 confirmed high-grade silver, lead and zinc often exceeding 1,000g/t AgEq and, in some zones, associated with significant gold and copper values
Property is adjacent to the northwest portion of ATAC Resources' Rackla Gold project
At least 36 vein structures have been identified
Mineralization identified on adjacent properties does not necessarily indicate that mineralization will be identified on Metallic Minerals projects.
Klondike Gold District Royalties: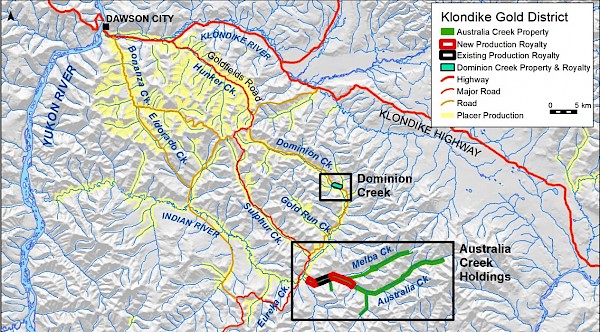 Australia Creek
26 miles (36.4 square km) of creek and bench mining rights along Australia Creek in the Klondike gold district near Dawson City, Yukon
Australia Creek is a tributary of the Indian River and is part of the historic Klondike gold district, that is estimated to have produced over 20 million ounces of gold since its discovery in 1898
Metallic has granted exclusive mining rights to an an experienced alluvial mining operator with respect to a 2.8 km2 portion of the larger Australia Creek property in exchange for a 12% production royalty
Mining on the Indian River began in the late 1970s and hosts many larger-scale, open-pit operations, which produce nearly half of all placer gold in the Yukon
Mining equipment has been mobilized to the Lower Australia Creek site to commence test work for the remainder of the northern field season
Metallic expects to pursue additional production royalty agreements with other operators on the remaining 33.6km2 property
Dominion Creek
10 claims totaling 1 mile (1.6 km) along a bench of Dominion Creek, a tributary to the Indian River
Metallic has granted an experienced alluvial mining operator exclusive mining rights to the Dominion Creek property in exchange for a 15% production royalty
Footnotes
Historic Keno District production grades: Historic Production data from CATHRO, R.J., 2006. Great mining camps of Canada 1. The history and Geology of the Keno Hill Silver Camp, Yukon Territory, Geoscience Canada Vol. 33
Historic La Plata production grades: Geology and Ore Deposits of the La Plata District Colorado – Eckel, Williams, Galbraith - https://pubs.usgs.gov/pp/0219/report.pdf
Alexco Resource Corp grades and economics: https://www.alexcoresource.com/news/2019/alexco-announces-positive-pre-feasibility-study-for-expanded-silver-production-at-keno-hill-silver-district/
Alexco silver equivalent was calculated using PFS average LOM metal prices and mill recoveries: Ag US$17.90/oz, recovery 96%; Pb US$1.00/lb, recovery 89%; Zn US$1.22/lb, recovery 73%; Au US$1,321/oz, recovery 49%.