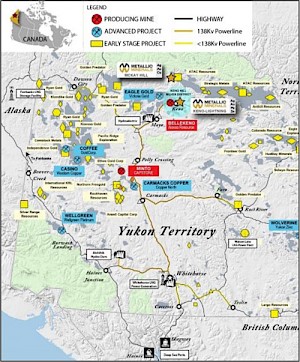 The McKay Hill Ag-Pb-Zn±Au±Cu project is located on the south slopes of McKay and Horseshoe Hills within the Ogilvie Mountains in central Yukon. The property is located approximately 50km north of the Keno Hill silver camp and 100 km north of Mayo in central Yukon. The project consists of 129 claims covering approximately 30 square kilometres strategically located between several major prospects and deposits, including the intrusion related (IRGS) Eagle Zone at Victoria Gold's Dublin Gulch and the Rau and Nadaleen trends which host Atac Resources' Rackla Project.
The central claims of the McKay Hill claim group were staked between 1922 and 1925. The main showing area was evaluated by Consolidated Mining and Smelting Co. Ltd. (CMSC), the precursor company to Cominco. In 1925, CMSC identified nine veins, primarily as lines of float, on the White Rock, Snowdrift, Carrie and Black Hawk claims. Consolidated Mining optioned the White Rock and Carrie claims along with five other claims in 1926 and carried out trenching on the No. 6 vein which returned average grades of 182 g/t Ag, 29.0 % Pb and 4.9 % Zn across an average width of 1.7 metres. East Bay Mining Ltd. shipped 143 tonnes of ore from the No. 6 vein with an average grade of 390.9 g/t Ag and 74.1 % Pb.
A field exploration program was conducted in 2017, with results expected in Q4.