PROPERTY OVERVIEW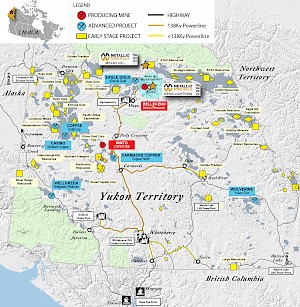 The 100% owned McKay Hill Project covers 44 square kilometres within a belt of silver-lead-zinc related deposits that stretch from the Alaska border to the southern part of the Yukon and includes the famous Keno Hill Silver District, approximately 50 kilometers to the south. McKay Hill is a historic high-grade producer that shows potential to host a significant district scale vein system like Keno Hill, with at least 37 identified mineralized vein structures that have seen very limited modern exploration. Recent field work conducted by Metallic Minerals has confirmed high grades of silver, lead and zinc as well as significant associated gold and copper values. Targets include both high-grade structurally controlled mineralization as well as potential bulk tonnage mineralization.
McKay Hill was discovered in the 1920's and worked on during the period of 1926-29, including a shallow drill program by Consolidated Mining and Smelting Company of Canada (now Teck Resources Limited). Between 1948 and 1949, East Bay Gold produced 143 tonnes of high-grade material from the No. 6 vein at McKay Hill, grading 390.8 g/t Ag and 74.1% Pb.1
Historic surface sampling at McKay Hill returned high-grade silver, lead and zinc mineralization associated with vein structures. More recent field work conducted by Metallic Minerals, and its predecessor, has verified the potential for high-grade silver, lead, and zinc mineralization, as well as demonstrated very significant gold and copper in this emerging district scale property. In total, field exploration work at McKay Hill has yielded 23 samples from 12 of the 16 known vein structures running greater than 300 g/t silver equivalent, which is the average reserve grade of global primary silver producers.
Exploration work has identified 6 separate kilometric-scale target areas with high-grade silver values along with associated lead, zinc and copper mineralization covering an area approximately 3 kilometers by 1.5 kilometers wide in soil and rock sampling. Work to date has resulted in 37 newly defined vein structures, with rock sampling and trenching results that included some spectacular bonanza grades. To date, a total of 61 rock samples have exceeded silver equivalent values in excess of 1,000 g/t silver equivalent values with values up to 4,326 g/t Ag Eq. and while channel sampling yielded results up to 2,126 g/t silver equivalent over 2 meters*.
These results have significantly expanded the areas of known mineralization which covers only a small portion of the 44 square kilometer property, supporting the potential for the discovery of additional mineralized targets in future programs. A comprehensive exploration program is being planned at McKay Hill in coordination with the Company's Keno Silver Project exploration activities.
*see Metallic Minerals news release
1Geological and Geochemical Evaluation Report on the McKay Hill Project, Jean Pautler, P.Geo. JP Exploration Services Inc., 2009
The scientific and technical information in this presentation has been reviewed by Scott Petsel, P.Geo., a non-independent qualified person as defined in NI 43-101.